You need a bit of help when you're researching the history of someone with a name like Brown. Trying to find a specific Brown in a morass of similarly-named people feels like wading through treacle and it's hard to keep motivated amidst so much uncertainty. Is this Jennie Brown your Jennie Brown? Does she always spell her name that way, or does she sometimes spell it Jenny? Or is it short for Jennifer, or Genevieve, or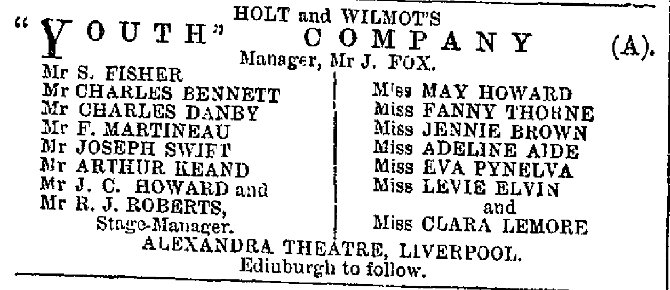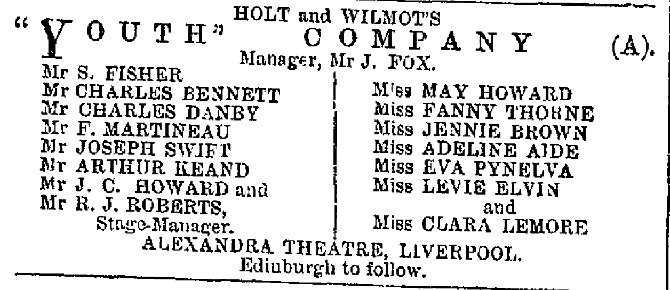 something else? It will be a lot easier in the future when we're all identified by unique 26-digit numbers (presumably this will happen at around the same time as we all start wearing silver suits and driving flying cars).
The Jennie Brown I was searching for was an actress, who was born in Rochester (according to her entry in the 1901 census) but possibly had  some connection with Australia (her father was reputed to have built the Bijou Theatre in Melbourne – or, possibly, somewhere else).
She was born about 1856 (working back from her age in the census) and by about 1881 (when her eldest son was born) had married Joseph William Sarl, also an actor – his stage name was Joseph Swift.
Unfortunately, tracking her down through official records proved difficult. For a start there was a doubt about her name – though normally referred to as Jennie (and, perhaps, occasionally Jenny), she appears on at least one birth certificate as Jane. And then, of course, there was her surname. Not one of the least common British surnames.
Well, old newspapers helped out again. A Jennie Brown is referred to several times in The Era, the authoritative stage newspaper in Victorian times, starting in 1876 (when the Jennie Brown I was looking for should have been about 20). It's still by no means certain that these are references to the right Jennie Brown. However, a little encouragement comes from the fact that in 1882, a series of adverts for a tour by Holt & Wilmot's Youth Company shows Jennie Brown and Joseph Swift appearing together (above right). Joseph's brother Sidney Sarl, who was working for a different Holt & Wilmot company, appears in another advert on the same page.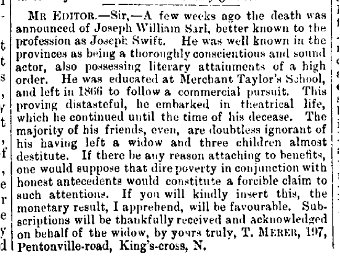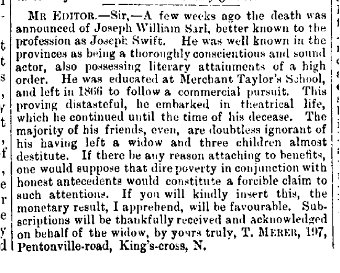 By this time Joseph and Jennie's son Arthur would have been around a year old. Jennie's name does not appear in The Era's columns again for several years after 1882 – very likely she retired from the stage as their family started to grow (another three children were born between 1883 and 1888).
Joseph carried on acting, and seems to have established a good reputation judging from reviews of his work that appeared in the contemporary press. However, in March 1888, when their youngest son, Ernest, was about a year old, Joseph committed suicide during a brief engagement in Bristol.
The acting community, one hopes, rallied round following this tragedy; at any rate they were invited to by a letter from Fred Merer in The Era:
A few weeks ago the death was announced of Joseph William Sarl, better known to the profession as Joseph Swift. He was well known in the provinces as being a thoroughly conscientious and sound actor, also possessing literary attainments of a high order. He was educated at Merchant Taylor's School, and left in 1866 to follow a commercial pursuit. This proving distasteful, he embarked in theatrical life, which he continued until the time of his decease. The majority of his friends, even, are doubtless ignorant of his having left a widow and three [sic] children almost destitute. If there be any reason attaching to benefits, one would suppose that dire poverty in conjunction with honest antecedents would constitute a forcible claim to such attentions. If you will kindly insert this, the monetary result, I apprehend, will be favourable.
(Fred Merer was an acting colleague who had appeared alongside Joseph in several productions during the 1880s. He is incorrectly identified as 'T. Merer' at the foot of his letter.) There was at least one response: on 7 July, The Era reported that 'Mr Frederick Merer acknowledges receipt of £1 for the Joseph Swift fund from "Admirers of Joe and Visitors to the Garrick".'
Who knows what kind of privations Jennie's family suffered after Joseph's death. It is probable that his family (he was the son of a silversmith) provided some support. Jennie's own family, however, seems to have lost touch with her. In 1890 another advert appeared in The Era:
WANTED, Address, Mrs Joseph Swift or (Miss Jenny Maxwell Brown). Apply to her sister from Australia. Mrs A Miles, Pickwick, Corsham.
The connection with Australia seems to confirm the story that Jennie's father had been involved in the theatre there. Whether the advert was successful in tracking Jennie down is unknown. However, it seems that the family may have left the country by the following year – there is no trace of them in the 1891 census. It is even possible that Jennie returned to Australia. There are a couple of mentions in Australian newspapers of an actress (or actresses) named Jennie Brown – and apparently only in the year or so after 1891. We cannot of course be sure that these refer to our Jennie Brown, but it is at least possible.
Another family legend – that Joseph and Jennie were actors in Sir Henry Irving's company – may come into play here. There is no evidence at all that either of them ever appeared with Sir Henry. However, one of the references to Jennie Brown in the Australian papers relates to a performance by the 'New Irving Dramatic Society'. Could the family legend be based on a misunderstanding of this fact? Like so much else here, it is just conjecture.


Nevertheless, there proves to be some truth in the story about Jennie's father being involved in the theatre management business. Newspapers come to the rescue here again. A marriage notice for Jennie's sister Maggie, the sister who was looking for her in 1890, shows that their father was William Maxwell Brown, who had at one time lived in Ballarat (where, as it happens, there was also a Bijou Theatre – though it was probably not called that when he was living in the town).
Searching for William Maxwell Brown turns up a few scraps of information. Before leaving England, he had been stage manager of the Surrey Theatre, London. In Ballarat he had managed the Theatre Royal. Unfortunately this venture seems to have concluded with his bankruptcy in 1860. He was discharged just two years later, but his subsequent career as a restaurateur seems to have been similarly unsuccessful, ending in another bankruptcy in 1867.
A return to the stage seems to have been his next move – as 'Professor Maxwell Brown', he advertised himself in Melbourne the following year as 'joint creator of the Indian basket trick', in which a person climbs into a wicker basket which is then run through several times with swords.
In 1883, William Maxwell Brown appeared as a witness in a court case in which an actor was suing a manager for terminating his contract early. He is described at the time as living in Adelaide. He seems to have charmed the court, and engaged in a bout of badinage with the judge and counsel that might have come directly from the pages of A. P. Herbert:
Witness – I have belonged to the theatrical profession for 43 years. Have played everything connected with the stage from leading man to prompter.
His Honor – And not crushed yet?
Witness – No, not crushed yet, your Honor. (Laughter.) In England a season meant three months, and was taken to apply to the four seasons of the year. In England the Christmas season would include the winter season, and would commence from Boxing Night, and be terminable three months after. Have managed many theatres, the last in 1860.
Mr. Stock – What are you doing now?
Witness – I am simply waiting for judgement in this case. I have nothing else to do. (Laughter.)
Mr Stock – You say you discarded management in 1860.
Witness – No; management discarded me. (Laughter.)
Three years later, in June 1886, William Maxwell Brown died, aged 54. By this time he had moved to Woolloomooloo, a suburb of Sydney. At least three of his children – J.C., W.B. and E.P. Brown – appear to have been still living in Australia; clearly Jennie was not there at this time, and seemingly Maggie was not either. A son, George, had died in 1875 at the age of 8.
Whether Jennie returned to Australia in the early 1890s or not, she was back in London by 1901 along with her four sons. (She may have been back by 1896, when a Jennie Brown becomes visible again in the theatre adverts of The Era; but it is not at all clear that this Jennie Brown is the same one: one notice, in 1899, indicates that Jennie Brown was also the stage name of a Mrs C May.) She lived on for many years, finally dying in Kingston in 1933, at the age of 78.