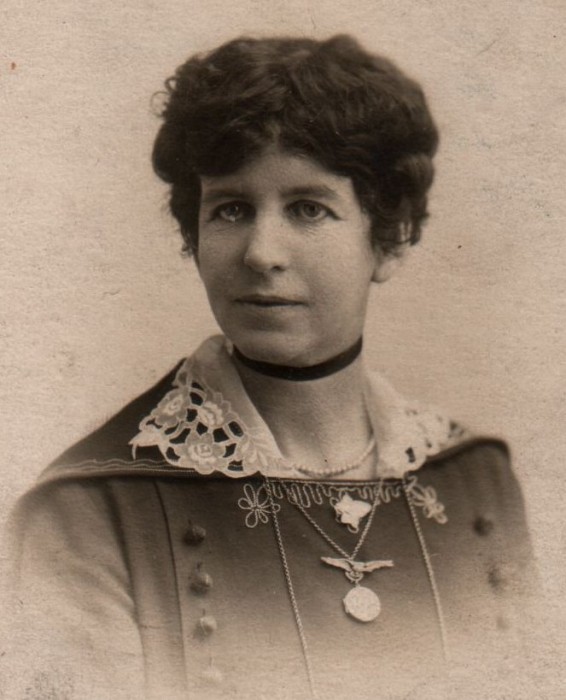 Auntie B was a bit of a character, by all accounts. I never met her (as far as I know) – she died either before or soon after I was born. But I heard a bit about her. She was eccentric, generous and warm-hearted, by all accounts.
The latter attribute seems to be confirmed by the following story, which appeared in a 1920 issue of the Rockhampton Morning Bulletin:
PRESENTATION TO MISS BETA RICHARDSON
Central Queensland soldiers who were the recipients of many kindnesses at the hands of Miss Beta Richardson, formerly of Rockhampton, while they were resident in the mother country, have had an album, containing about 120 photographs, prepared for presentation to her. The photographs include one of Eastcote, on The Range, where Miss Richardson lived for many years with her parents, Mr. and Mrs. A. J. Richardson; Redwood, the well-known vineyard in the Yeppoon district, which was at one time the property of a member of her family; beauty spots in the Rockhampton Botanic Gardens and other parts of the district; views of the leading public buildings in Rockhampton; and the Fitzroy and Alexandra bridges; a fine set of flood pictures; and a most interesting series of views of the doings of a party of Rockhampton and Mount Morgan residents catching and riding turtles on Peak Island, off Emu Park. On the front of the album is a silver shield bearing the inscription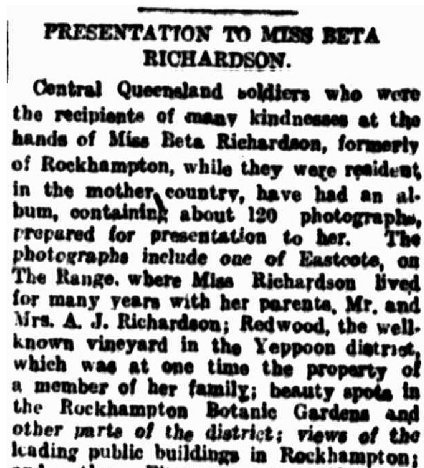 "To Miss Beta Richardson from some of her 'digger' friends, 1920" and on the back is a reproduction, in gold, of the Australian coat of arms. On the inside of the cover appears the following:-
"Rockhampton, Queensland, June 1, 1920, Miss Beta Richardson, 73 Clarence Gate Gardens, London. This small token is sent from a few of the members of the A.I.F.who were welcomed and entertained at your mother's house in London during the period of the Great War. It may serve to recall days spent in your homeland and is offered in appreciation of your untiring energy and tactful service, which was always at the disposal of any member of the A.I.F., be his rank what it may. To the 'digger' in trouble, when he over-stayed his leave or otherwise offended against military laws, your ready help and advice were always forthcoming even to the extent of bearding the military authority in his den." On the opening page there are water-colour pictures, by Mrs. C. White, of Emu Park and Yeppoon. The album will no doubt be a most welcome reminder to Miss Richardson of many days spent in Rockhampton as well as tangible evidence that the services she was able to render soldiers from Central Queensland on the other side of the world were heartily appreciated by them.
Way to go, Beta.