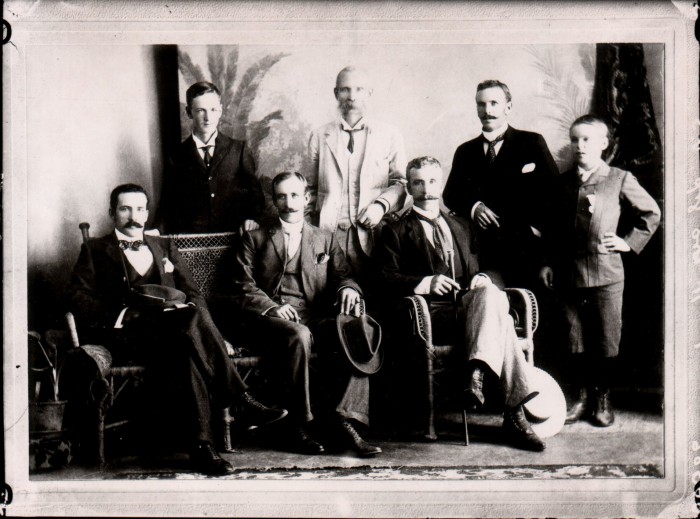 Origins
Archibald John Richardson was born in Edinburgh in 1836. The name Archibald came from his father; John was the name of his grandfather, or perhaps he was named after his much older cousin, Sir John Richardson, who by the time of his birth was well known as the naturalist on Sir John Franklin's voyages to the arctic in search of the Northwest Passage.
Archibald was not baptized until he was a year and a day old. His baptism record reads as follows:
Archibald John son of Archd. Richardson formerly Distiller and Brewer in Leith & Margaret Robertson, his spouse, was born at Pilrig Street the 10th Day of December 1836 & baptized on the 11 December 1837 by the Revd. James C. Burns, Minr. of the Scotch Church, London Wall.1
There are some puzzles here. Why wait so long before baptizing the baby? Why was the birth not registered until 1839? And was the Revd. Burns any relation to Robert Burns, the poet and friend of Archibald senior? The answers to these questions await further research.
What is known, however, is that at the time of Archibald's birth, his father's financial affairs were less than perfect: he had just undergone his second bankruptcy. This may well have been the reason why the family left Edinburgh bound for London – perhaps Archibald hoped to be able to set himself up in business again far away from his creditors. In circumstances almost of flight it would be understandable if formalities such as baptism and the registration of a birth were temporarily overlooked.
The party travelling south from Leith to London in 1837 would have comprised two Archibalds and two Margarets: Archibald junior's sister, who would have been about seven years old, was called Margaret like her mother. Their father was an elderly man: in the year of his only son's birth he had just turned 70. They settled at an address in Hackney, north-east London.2
Orphaned
Margaret senior would die the following year.3 At some point, probably after 1841, the rest of the family moved to Woodland Cottage, Old Ford. Here, within the sound of Bow Bells, Archibald senior would dramatically expire over dinner one Monday evening.4
Archibald junior and Margaret were left orphans. What happened immediately afterwards is not clear. They may, however, have moved together to the Scottish borders: at any rate, Margaret died just under a year later at a house called Rosebank in Melrose, Roxburghshire.5 It seems clear from the fact that her death was noted in The Scotsman that she was still regarded as a member of the respectable middle classes, so what would otherwise be a reasonable conclusion, that she had taken employment as a domestic servant in order to pay her way after her father's death, seems unlikely. More likely she and (probably) Archibald were staying with relatives or friends. Who these may have been is hard to say without extensive research into the ownership of the house: but a little probing reveals a possible clue.
In 1857, ten years after Margaret's death, Rosebank was the home of a Miss Bayne.6 However, some 70 years later Rosebank seems to have been owned by a man called Andrew Kinghorn.7 In 1843, William Henderson Couper, Archibald senior's grandson and Archibald junior's half-nephew (William was, in fact, nearly twenty years older), had married a Janet Kinghorn. There were several other Kinghorns living in or near Melrose at the time of Margaret's death. The possibility of a coincidence is high. But still, it is at least possible that the house was owned by relatives of Margaret and Archibald and that these relatives were connected with Archibald senior's first child, Mary.8
There is no certainty that Archibald and Margaret were together at the time of her death, although it seems more likely than not. However, there is a family legend concerning Archibald that is impossible to substantiate but might as well be included here for completeness.
Arctic explorer
Some time after his father's death, Archibald supposedly sought (or someone sought on his behalf) assistance from his celebrated cousin, the Arctic explorer Sir John Richardson. But there was some doubt as to Archibald's true identity. Sir John therefore required Archibald to prove he was who he claimed to be by identifying his ancestors from their portraits in 'the ancestral home'. Archibald did so, and Sir John accepted him into his family.
The accuracy of this story is doubtful for a number of reasons. First, the location of this 'ancestral home' is unclear. It could presumably have been located only in Dumfries, where Sir John's (and Archibald's) ancestors seem to have lived. But where in Dumfries it was, and who was living there at the time, is obscure.
Second, there is no evidence that Archibald actually lived as a member of Sir John's family.
In 1851, five years after his father's death and four years after his sister's, Archibald is shown by the census to have been living at 4 Union Place, Forton, Alverstoke, Hampshire. He is listed as a visitor, aged 14. The only other occupant is a Mary Ann Ball, aged 60, who is described as the head of the household.9
There is an obvious connection with Sir John Richardson – the proximity of Archibald Richardson's lodgings with the Royal Naval Hospital, Haslar, of which Sir John was at this time Chief Physician. And there's another much less obvious connection – the will of a seaman who died in Chatham in 1838. The will was witnessed by Sir John Richardson, who was a surgeon at the Melville Hospital, Chatham, at the time the will was written. The seaman in question was Sampson Ball, and he left his estate to his wife, Mary Ann Ball.10
Around the time of Sampson Ball's death Sir John left Chatham to take up a post at the Haslar hospital. Perhaps he took Ball's widow with him, possibly as a governess to his children or in some other capacity. In any case Hampshire was her home county and following her husband's death she may have returned on her own. Either way, it would seem certain that when the young Archibald came into Sir John's care after his father's death he arranged for the boy to be looked after by Mary Ball close to where he was living with his own family. Contrary to family legend, however, he almost certainly did not bring Archibald up in his own home.
Ten years later, in 1861, Archibald was still living with Mary Ann Ball, but by this time they had moved to 4 Albert Terrace, South Stoneham, Southampton.11
Outback explorer
What arrangements were made for Archibald's education at this time is unknown, but it is likely that he was trained as a surveyor. In 1861 he emigrated to Australia, travelling from Gravesend to Sydney on board the ship Waterloo. He was identified by the Queensland government as a suitable technical member of the Jardine brothers' expedition to Cape York in 1864.12
The expedition left Rockhampton on 14 May 1864. Newspaper reports show Archibald making a return journey between Rockhampton and Brisbane between 17 April and 10 May, quite likely to take instructions from the Queensland government, which financed him as a member of the expedition, and perhaps to take delivery of the surveying equipment they furnished. According to Archibald's journal, these consisted of 'a sextant, artificial horizon, prismatic compass, Gregory-compass, and barometer'.13
Archibald's account of the Jardine expedition gives little indication of it, but there seem to have been some serious disagreements between him and the Jardine brothers over navigation during the course of the expedition. The Jardines later published their own account of the journey in which they seem to have presented a none-too-flattering portrait of Archibald –  in particular of his navigational abilities.14 The expedition was scarred by conflict with Aborigines, and some commentators have suggested that the Jardines were wanton in their violence towards the Aborigines with whom they came in contact.15 Archibald's membership of the expedition naturally implies complicity in any wrongful killing, even though he is not personally named as a culprit. His views on the matter, and the question of whether his differences with the Jardines extended to their treatment of the Aborigines, is a matter for speculation. But another family tradition holds that Archibald had refused to carry a gun on the expedition – another possible explanation for the apparent friction between him and the Jardines.
The episode does not seem to have done too much harm to Archibald's standing with the Queensland government or more generally, however. His journal of the expedition was read to the Royal Geographic Society in London (although he was not elected to a fellowship, as the Jardines were16 ). He continued to work for the Queensland authorities, and was appointed district surveyor for Rockhampton in 1870, and by 1873 he was a magistrate in the district.17 Nor does the episode seem to have permanently soured relations between Archibald and the Jardines – at any rate, Archibald and Alexander Jardine are reputed to have been frequent companions in the Rockhampton billiard halls in later years.18
Marriage and family
In June 1865, William Francis D'Arcy, a Devon solicitor who had apparently left the country to avoid the fallout from a financial disaster, arrived with his family in Brisbane on the ship Southern Ocean.19 At some point during the next five or six years D'Arcy's daughter, Lucy, made the acquaintance of Archibald, and they were married in 1871.20
Archibald and Lucy had nine children: Mary Lucy (later known as the poet Lala Fisher), born 1872; Archibald John (Jack), born 1873; Luci, born 1874; Willingham Franklin (Dink), born 1876; Elizabeth (Beta, or B), born 1877; Lucius D'Arcy, born 1879; Josephine Lucia, born 1881; Charles, born 1884; and Maul Francis, born 1888.
The family is supposed at some point to have set up home in Yeppoon, a settlement on the coast about 25 miles from Rockhampton. Their house was apparently called Lammermoor, and Lammermoor Beach is district of modern-day Yeppoon. However, no documentation has yet been found to substantiate that the family lived there. Curiously, in 1874, Archibald is listed as the official surveyor for the settlement of Bowen, near Townsville in the north of Queensland: a long way from Rockhampton.21 Perhaps this reflected the wide geographical scope of his responsibilities, rather than his place of residence. It is certain that Archibald and his family regarded Rockhampton and its environs as their home. From 1889 onwards, and probably before this, the Richardsons lived at Eastcote, Talford Street, Rockhampton.22 The family remained here until the early 1900s, after Archibald's death.
You'll never get rich …
At some point during the 1870s23 Archibald discovered sapphires near Retreat Creek, Anakie – some 200 miles inland from Rockhampton. A. E. Hermann24 recounts how Archibald bought the surrounding land and struggled for years to develop the site but ultimately failed to find any market for the sapphires.
Logistically speaking the difficulty of extracting the stones at so great a distance from Archibald's home must at first have been formidable. However, the site developed as more people became interested in its potential and a railway link to Anakie was established by the mid-1880s.
In 1890 Archibald went into partnership with Frank Fisher (later Lala's husband). A government geologist, H. L. Jack, produced a favourable report on the sapphires, some of which he said were as valuable as the prize specimens to be found in European hands. Apparently encouraged by this – or perhaps worried by others who were beginning to take an interest in the site – Archibald travelled to Brisbane to fix up financial investment in the claim. He appears to have been successful, and secured the support of 'many influential names'. He planned to use the money to significantly scale up operations.25 But by 1893 the partnership ended in bankruptcy, quite possibly a result of foreclosure on a loan by one or more of these 'influential names'.26 Richardson and Fisher were forced to sell the land and all their equipment at the knock-down price of £90.27
Lala and Frank, who married in 1893, travelled to London some four years later with the intention of testing the market for some of the sapphires that had been discovered. Unfortunately their business sense (if they had any) seems to have deserted them when they got there: having established that a Hatton Garden jeweller was willing to buy two sapphires for the handsome sum of £106, they returned the following day with a large quantity of similar stones and were surprised when the jeweller refused to offer a comparable price again. The market then seems to have become firmly closed to the influx of new stones.28
Archibald lived for a few more years, finally succumbing to heart failure on 7 December 1900. Lucy continued to live in Rockhampton for another decade or so, before leaving for England with some of their children, who were all now adults.
Archibald is buried in Rockhampton cemetery. A few years ago Rockhampton City Council and the Queensland government's Community Memorials Restoration Program allocated $17,500 to a project to restore his grave.29 It may have been damaged by subterranean disturbances caused by the rapid rotation of the explorer six feet down: as A. E. Hermann30 records, 1900 was the year the Anakie sapphire trade really started to take off. By 1923, the total sum realized on the stones from excavations in the area had reached £3,545,335 (or, to put it into today's values, something in the region of £104,895,000).