.
.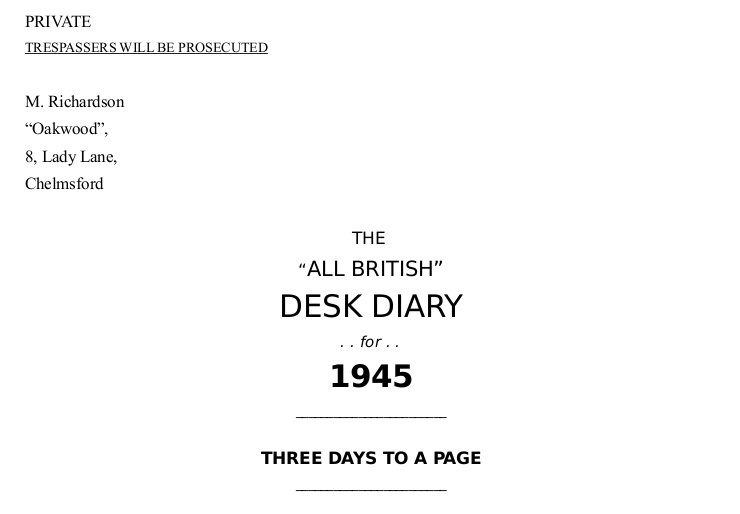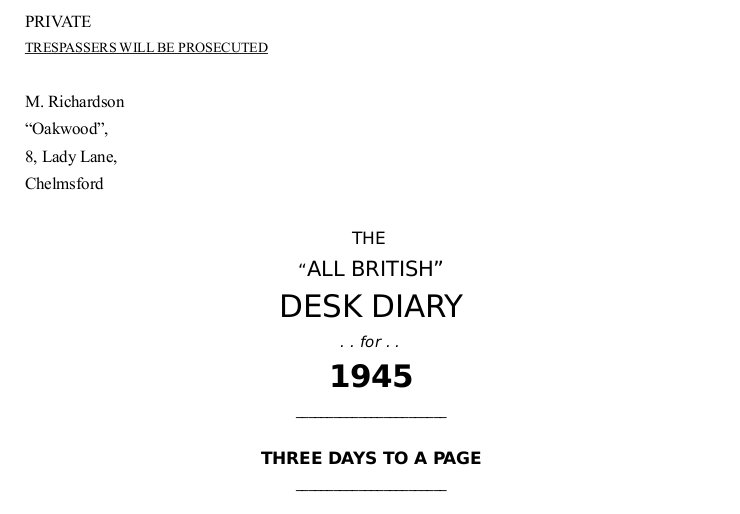 Introduction

Monica Richardson kept a diary regularly for the first half of 1945 and for parts of the remainder of the year. She was 20 at the start of the year, living in Chelmsford and working at the Marconi factory, a job she hated but could not leave. The pages tell the unfolding story of the final months of the Second World War from her unique but not untypical perspective. It is a testament of the mundane and the extraordinary – dodging doodlebugs, splurging coupons to buy clothes to wear to dances, walking Chum, the family dog, seeing countless films, going to church several times a week or even several times a day (she was a Catholic), working towards her Matriculation exam, digging rather half-heartedly for victory (or at least for a nice floral border) in the back garden, celebrating with the crowds in Chelmsford's Tindal Square on VE Day. A few months later she noted with horror the use of atom bombs against Japan that ended the war.
The diary is also a record of Monica's opinions, often scathing, on the people and incidents that she came across. Hairdressers were uniformly incompetent; teachers were usually dull or worthless, but occasionally interesting; the films were always rated, and sometimes found wanting, but, surprisingly, more often not; even the priest who said mass occasionally got a critical sideswipe; and the weather in June earned a characteristically poor notice, one that she would inevitably dust off at some time during that month in every subsequent year until her death – "Flaming June", said with heavy irony.
She witnessed one of the most significant political events of the war years, the by-election victory of left-wing candidate Ernest Millington in the previously safe Tory seat of Chelmsford, a result that gave notice of the great social upheaval that had taken place during the years of conflict and that was to sweep the reforming Labour government of Clement Attlee to power a couple of months later. Monica, a Conservative to her dying day, dismissed the event as evidence that the whole country was turning Communist.
Her large family are always passing through the pages of the diary – her mother Edith and younger sisters Gerry, Zita, Tessy and Mary, who lived with her in Chelmsford; her elder sister Frances, who worked as a nurse at a London hospital; her brothers Tony and Hugh, who were servicemen; her uncle Willie, who lived in Ipswich but owned TWO houseboats in Mersea. Various friends, almost all of whom had passed out of her circle long before her death (and about whom little is consequently known, other than what appears here) shared her wartime experiences, performing voluntary work at the hospital (though there was never enough gore, even in wartime), going with her to the "flicks", and, in the case of one unfortunate girl, losing an eye to conjunctivitis. If anyone can identify any of these people – for example the oddly-named Cyril Worrall, and his wife, who was "a Talker!" – please step forward.

At times Monica and the others go to stay with Aunt Elizabeth (known as B) at her house in Coleherne Road, Earls Court, which had been the whole family's home when they were growing up. The regime at B's was, one feels, much more relaxed than at Lady Lane; they almost always got up late and did very little all day. At home, it was a different story. The fact that Monica considered it an event worthy of noting in her diary when on one occasion her mother did NOT tell her off for getting up late might explain her aversion to early rising in later life.

In transcribing the entries I have corrected some, but not all, mistakes of spelling and punctuation (there are surprisingly few, considering that most of the entries seem to have been scribbled in haste), leaving mistakes in when they give an insight of some kind. In a few places I have tried to give background information to explain circumstances that are obscure because of the passage of time or the need for local knowledge.
RK, July 2010

Click the links below to view the diary or click here to download a PDF file.