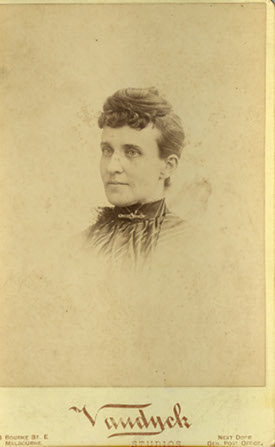 Lucy Knox D'Arcy was born in 1841 at Newton Abbott in Devon.1 Her father was William Francis D'Arcy, a solicitor, and her mother was Elizabeth Baker Bradford. Her parents married in Hampstead in 1835. Elizabeth was a Devonian. William lived in Devon at the time and had family ties there, but seems to have been born in Ireland.2 At the time of Lucy's birth they had two other daughters, Maria, born about 1837, and Mary Elizabeth, born in 1839. The family were living at Highweek in Devon.3
The 1861 census locates Lucy at the house of her uncle, -?- Pearce (first name illegible), in Stoke Damerel, Devonport. Four years later she, her parents and her six brothers and sisters set sail on the ship Southern Ocean from Portsmouth, bound for Brisbane. The impetus behind their emigration seems to have been a financial catastrophe.4
Lucy's father set up a legal practice in Rockhampton, Queensland, and had acquired an excellent reputation in the district by the time of his death in 1870.5 The following year, Lucy married a young Rockhampton surveyor, Archibald John Richardson. The couple seem to have shared a passion for opera, or a taste for wordplay. (The latter is not unlikely, in view of the excruciating punning engaged in by some of their descendants.) Some time after their marriage Archibald and Lucy set up a family home in Yeppoon, a town on the coast not far from Rockhampton. One family legend suggests that the house was called Lammermoor (perhaps after Lucia di Lammermoor, Donizetti's opera; Archibald was a Scot so may have felt some affinity with the work, which is based on a novel by Sir Walter Scott). The house may be commemorated in the name of Lammermoor Beach, a district of modern-day Yeppoon.
However, other family evidence suggests their home in Yeppoon was called Haytor. Perhaps Haytor was located in or near Lammermoor Beach – further research beckons. What is certain is that several of their nine children, born between 1872 and 1888, were given names that could have been inspired by Donizetti's opera: Luci, Lucius, Josephine Lucia. Perhaps the couple based the names of their children on a tenuous wordplay surounding the locality where they had their home, rather than naming both their house and their children in honour of the opera. It may be too late to find out. The eldest child, Mary Lucy, may have taken her middle name from her mother, rather than Donizetti's heroine. (She was known among the family as Lala, and later, under her married name, was to become the notable Australian poet and literateur Lala Fisher.) The eldest son was called Archibald John, a rather less imaginative choice.
After Archibald's death in 1901, Lucy continued to live in Queensland for several years – although by 1903 the family had left Yeppoon and were living at Eastcoat, Talford Street, Rockhampton.6 Later, the family moved again, to 180 Cambridge Street.7 In 1911 Lucy, Elizabeth (known as Beta or B), Josephine, and one of their brothers – possibly Archibald John junior – left for England.8 Two years later they were to be joined by Maul, who sailed in 1913 on board the White Star ship Runic.9
The family settled in London, reputedly being among the first Australians to colonize Earls Court, where they eventually established a residence at 2 Coleherne Road. Lucy lived on into the 1920s, apparently retaining a firm grip on her faculties well into her eighties.10 The family (who were devout Catholics) were visited by a pair of nuns on one occasion, one of whom addressed the old lady in a patronizing fortissimo: 'YOU'RE A WONDERFUL WOMAN!' Lucy replied: 'I may be wonderful, but I'm not deaf.' There's no record of whether this riposte left the nun deflated or not.