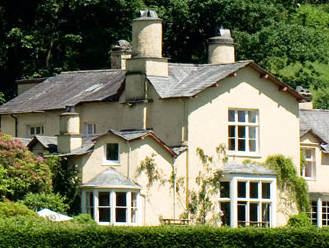 Might this charming house in the Lake District have been home to Archibald Richardson, after the death of his father and sister in the 1840s? It's beginning to look like it.
The work of the Australian Newspapers Digitisation Program goes on. Last October they notched up 3 million scanned newspaper pages. They are scheduled to finish in July this year, after adding another million pages or so to the total.
One thing that seems to have shown up in a recent wave of digitizations is a death notice for Archibald, who died in Rockhampton in December 1900.
After his  father died, we don't know exactly what happened to Archibald. But according to the article from the Rockhampton Morning Bulletin, 'at an early age he went to live in Westmorland'. If this is true, it's possible that he went to live at a house called Lancrigg, near Grasmere. The house belonged to a woman called Elizabeth Fletcher, a friend of the poet Wordsworth. Elizabeth's daughter Mary married Sir John Richardson, the arctic explorer, naturalist and surgeon, who was Archibald's first cousin.
After his father's death in 1846, it may be that Archibald moved with his sister to Melrose in the Scottish borders. At any rate his sister died there in the summer of 1847. Might Archibald – having suffered this double loss – have been taken pity on by the mother-in-law of his cousin, Sir John?
We don't know, of course. But Lancrigg is in Westmorland (or used to be) and given the family connection it certainly seems possible. And a letter written to Elizabeth Fletcher by Sir John Richardson in 1848 may just give a hint that supports the theory. Sir John, who was in Northern Canada searching for the lost Franklin expedition, wrote to his mother-in-law: 'I hope to hear that you travelled safely and comfortably to Lancrigg, and that Mary, with her charge, speedily followed.'
At the time Sir John and his family were resident at the Haslar Hospital in Hampshire. Who knows what the purpose of this visit to Lancrigg might have been. Lady Richardson's 'charge' could have been anyone (a sick son or daughter, being taken off to the country to recuperate) or anything (a pet dog). But it might have been little Archie.
It is interesting that the Morning Bulletin obituary mentions that Archibald was a cousin of Sir John Franklin's as well as Sir John Richardson's. I know of no evidence for this – but it would be great to find some. However, it probably belongs in the 'journalistic misunderstandings' category. Along with Archibald's reported age at the time of his death – he was not 65. In fact he died the day before his 64th birthday.
Archie's putative childhood home can still be visited – it's now a vegetarian hotel. The distinctive round chimneys were – apparently – retained from the original farmhouse building at the insistence of Wordswsorth himself, with whom Archibald's possible temporary guardian Mrs Fletcher was very close. And, much as it pains me to discover this connection with yet another poet, I would like this little speculation about Archibald's history to turn out to be true.