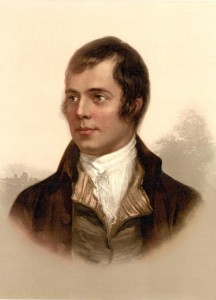 There's a character in one of Michael Innes's detective stories who claims his grandfather was born in 1720, the year of the South Sea Bubble. The book is set in the late 1960s. Martyn Ashmore is an octogenarian and considers he might just about be reaching the age when he should think about having children himself. Too bad he gets murdered before he has a chance.
But if both his father and grandfather had (as he said they had) put off marriage until they were in their 80s, the existence of an octogenarian alive in the 1960s whose grandfather was born little more than a hundred years after Shakespeare died is just about conceivable.
In fact there are some well documented cases of generations being stretched beyond normal limits. The Daily Mail published an article a year ago about the grandsons of John Tyler, the tenth president of the US, who are still alive. Tyler was born in 1790. He was about 63 when his son Lyon was born, and Lyon was about 75 when his younger son was born in 1928. That's an average gap of 69 years between generations.
In the light of that example I suppose my claim that the poet Robert Burns, who died in 1796, was a friend of my great great grandfather Archibald Richardson pales into insignificance. Archibald was born in 1767. His son (also Archibald) was born in 1836. His grandson (Maul) was born in 1888. His great granddaughter (Monica) was born in 1924. And his great great grandson (me) was born in 1964. (In fact his youngest great great grandchild was born about six or seven years later still, but never mind that.) The average gap between generations from Archibald to me is therefore a mere 49.25 years.
Still, I suspect it's a bit more than the overall human average generation gap. If we compare the generations in my family with those in a similar family chosen at random, we can see that my family tends to leave it a bit later to have children than is perhaps the norm.
| | |
| --- | --- |
| John Richardson (b. 1722) | Queen Victoria (b. 1819) |
| Archibald Richardson (b. 1767) | King Edward VII (b. 1841) |
| Archibald Richardson (b. 1836) | King George V (b. 1865) |
| Maul Richardson (b. 1888) | King George VI (b. 1895) |
| Monica Richardson (b. 1924) | Queen Elizabeth II (b. 1926) |
| Me (b. 1964) | Prince Edward (b. 1964) |
Of course it was Archibald (senior) who made most of the running. But others have played their part too in making sure the generation gap was nice and big. Archibald's father John waited until he was in his mid-40s to have Archibald, and Archibald's son Archibald (doh) didn't get round to completing his family (with my grandfather) until he was 42. My mum was 40 when she had me. No one, though, has done as well as Archibald, who was still firing on all cylinders at the age of 69.